Our dogs can assist in your counselling through social connection, acceptance, empathy, and soft contact.
Let our therapy dogs help you heal
Our therapy dogs are specially trained to accompany you and your counsellor during your session.  They can be part of any session: individual counselling, family counselling or youth counselling.
Research continues to show that dog-assisted therapy can lead to better results from your session, due to the healing benefits that you'll experience by having a dog in the room.
Generally, our clients tend to feel more at ease "opening up" when Molly or one of our other part-time dogs is in the room.  Our therapy dogs can reduce your anxiety without you realizing it, and increase your overall comfort in the session.  This leads to subtle internal motivation on your part, which can make your session more effective.
To say that our dogs are great with kids would be an understatement.
No barking here!
Find calm with a therapy dog
The presence of a therapy dog can relax you, help you with focus, and offer unconditional comfort that you'll find gently healing.  It's what they're trained to do!
Interacting with one of our therapy dogs can lower cortisol (the "stress hormone") and help you feel more secure, empathetic, and connected.
Yes, simply having a trained therapy dog in the room has many benefits and can give you some extra relief from your anxiety, stress, depression or loneliness during your session.
Four-Legged Therapy
Having a dog in your session is called Animal Assisted Therapy and it's not just a light-hearted treat for you.  It's a therapeutic intervention in which the animal is incorporated as an integral aspect of your treatment.  Molly and any of our part-time dogs are considered co-therapists and aren't dependent on any specific theory or therapeutic modality.  They can be integrated into any therapy session.
If you want to know more, or discuss if using Animal Assisted Therapy is right for you, please speak to one of our counsellors or book a Coffee & Chat with us.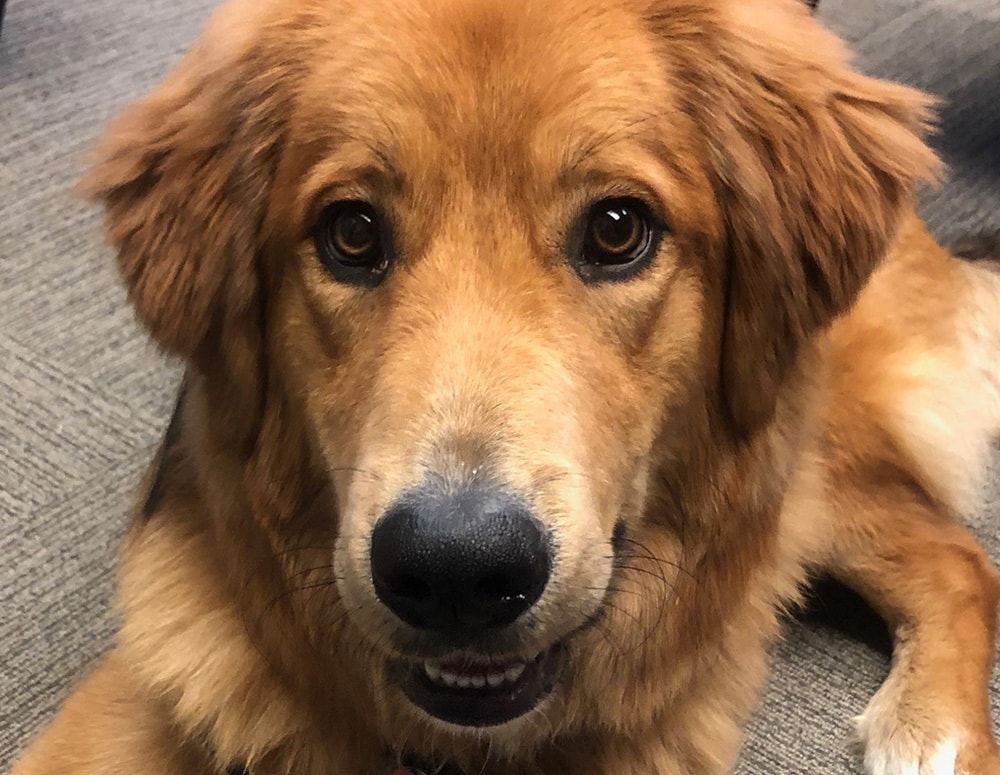 Meet Molly
Building Bridges Counselling Services is proud to introduce Molly, our Therapy Dog.
Molly is a Labernese, which is a mix between a Labrador retriever and a Bernese mountain dog. Molly spends much of her time at Building Bridges, greeting and comforting clients.
Molly is a Certified Therapy Dog who continues to complete regular training and evaluations with her owner, Vanessa Fahie, and Sally Young, a certified dog trainer.
Sally Young is a CPDT-KA and has worked professionally with dogs for over 15 years. She is also a member of both Canadian Association of Professional Pet Dog Trainers and the American Association of Pet Dog Trainers.
Molly's trainer describes her as "a sweet, calm, gentle, smart dog." She states that, "Molly is a quick learner. She has shown a great ability and enthusiasm to learn new skills. Molly has been successful in performing these skills when asked in a variety of settings and situations. Molly is also patient with both adults and younger children."
Meet Timber
This is our newest addition to the Therapy Dog team: Timber. He is a Eurasier, which is a medium-sized German spitz breed with traits similar to Samoydes and Keshounds.
Timber is a gentle, independent young dog. He loves chest scritches and snoozing on the floor in the counselling rooms. He's currently in training with his owner Erin and trainer Sally.
If you're interested in our counselling services along with our therapy dogs, your first step is to meet with us for a complimentary, no obligation Coffee & Chat.